You can use this popular shampoo to pass a hair drug test. This shampoo works great on most commonly abused substances and will aid you in passing a hair drug test. This shampoo is great for oil soluble substances. For instance, marijuana and benzodiazepines would fall under this category. However the shampoo can sometimes be ineffective when used on cocaine or methamphetamines. This usually happens when the usage of such substances is medium to high. A positive result on a hair drug test can sometimes be avoided with the use of the Nexxus Aloe Rid Shampoo daily, prior to the hair drug test. But still in rare cases, that still may not be enough to pass a hair drug test for cocaine and/or methamphetamines. These substances are notoriously difficult but not impossible to remove in order to pass a hair drug test.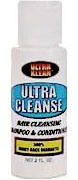 Ingredients: Deionized water, Sodium Laureth Sulfate, Cocamide DEA, Cocamidopropyl Betaine, Aloe Vera Extract, Comfrey Extract, Geranium Extract, Sodium PCA, Polyquaternium 10, Panthenol, Glycerin, Citric Acid, Methylparaben, Tetrasodium EDTA, Sodium Thiosulfate, Phenoxyethanol, Fragrance, Sodium Chloride.
Nexxus Aloe Rid cleans the oils from the scalp, where toxins are found. Use as your everyday shampoo in addition to Ultra Cleanse Shampoo. Use the product in the days leading up to your test. Deep cleaning formula delicately removes residual buildup, environmental pollutants, chemicals, chlorine, hard water minerals, and hair dulling impurities. Five ounces of gentle clarifying shampoo. Advanced microsphere technology provides the gradual release.